As the Bulgarian presidency of the European Council draws to a close this week, we look at the potential for rapid emission reduction projects in Bulgaria through cutting coal used to heat buildings – and cutting energy poverty at the same time.  Much more analysis on the emissions cuts available to Member States can be found in our March report
Climate Of Cooperation
.
The EU's Effort Sharing Regulation (ESR) is the climate policy covering the sectors outside the carbon market. These include emissions from buildings, agriculture, transport, and waste.
The weak ESR currently lets the EU miss the 2030 CO2 target, but cooperation between Member States could rescue the target, and cut costs for all involved.
Cutting emissions in the ESR
Bulgaria already expects a significant ESR surplus under business as usual; in other words, Bulgaria is on track to exceed their emission reductions targets, and a surplus will become available to trade with other EU Member States. This valuable surplus could be doubled by a fleet of already identified projects. Even better, many of these additional projects have co-benefits including reducing energy poverty and air pollution.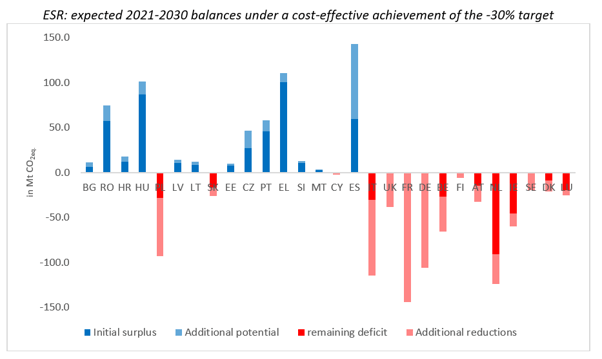 The Bulgarian building sector in the ESR
The building sector in Bulgaria only accounted for 5% of total non-ETS emissions in 2015, which is very low compared to the EU average (22%). The low share is attributable to the heating systems currently used in Bulgaria. The bulk of the energy use in residential buildings (58%) is provided by electricity and district heating, emissions from which  are accounted for under the EU ETS. Another 28% of total energy use comes from renewable sources (mainly wood burning), which is zero-rated under current reporting rules. Only the remaining 14% of energy used comes from direct fossil fuel combustion in buildings (mainly coal) and is thus accounted for under the ESR. A similar conclusion can be made for commercial buildings, where electricity and district heating jointly account for 85% of total energy use.


The most recent Energy Union factsheet for Bulgaria suggests that energy consumption in the Bulgarian residential sector is considerably below the EU average. However, this is due to energy poverty rather than an efficient building stock, and energy use is expected to increase significantly as household incomes rise
[2]
. The energy intensity of the service sector – which is mainly driven by energy use in commercial buildings – is significantly above the EU average, which indicates potential for further efficiency gains.
Up until 2030, Bulgaria is expecting to increase its emissions in the building sector due to reduced energy poverty and a switch from electricity (which is accounted for under the EU ETS) and biomass heating (which is zero-rated under current reporting rules) to natural gas (which is accounted under the ESR). The good news is that Bulgaria is planning/expected to further reduce the share of coal in residential heating systems. The shift away from electricity is also partially good news, as coal and lignite still account for a large share of Bulgaria's electricity mix. Although gas is generally a cleaner fuel than coal, there is a risk of carbon lock-in when considering that the building sector in the EU will have to decarbonise almost completely by 2050.
Driven by reduced energy poverty and a switch to natural gas, emissions from the building sector are expected to increase 75% between 2015 and 2030 (from 1.3 to 2.3 Mt CO
2eq.
) under WEM projections (WEM = With Existing Measures i.e. the emissions pathway under current policy only). Further efficiency improvements and low-carbon heating systems could avoid or at least limit this increase, as illustrated under the Reference Scenario and the EUCO30 scenario.
The Reference Scenario and EUCO30 scenario illustrate that there is potential to avoid emission increases in Bulgaria's residential sector while combating energy poverty, by combining extensive energy efficiency improvements with a lower carbon intensity energy. However, as Bulgaria is expecting to build up a surplus under the ESR even under its WEM projections, the targets alone provide no incentive to make use of this potential. Reduction projects and program
mes should therefore be supported by other Member States with a deficit of cost effective emissions reduction options.
Examples would be to combine energy efficiency improvements (either through deep renovations or demolish-and-rebuild) with renewable heat generation (e.g. heat pumps powered by renewable electricity).
Other Member States should not make use of the external flexibilities which are provided under the ESR, as these do not guarantee additional reductions and delay the necessary transition in the non-ETS sectors – especially when there are flexibilities available for real emissions reductions in other EU states like Bulgaria.
The Clean Energy Package agreed last week tasks every Member State with creating
a national strategy towards net zero
. Bulgaria has a large number of emissions cuts available to get towards a net zero pathway, which under the ESR could be earning the country extra revenue.
Much more analysis on the emissions cuts available to Member States can be found in our March report
Climate Of Cooperation
.
References
[1]
 and [2]: See Bulgaria's 2017 Report under art. 12, 13 and 14 of the Monitoring Mechanism Regulation (EU) No 525/2013, available here
http://cdr.eionet.europa.eu/
[3]
Figure taken from the latest Energy Union factsheet for Bulgaria published by the European Commission, available here:
https://ec.europa.eu/commission/publications/energy-union-factsheets-eu-countries_en
[4]
See Bulgaria's 2017 Report under art. 12, 13 and 14 of the Monitoring Mechanism Regulation (EU) No 525/2013, available here
http://cdr.eionet.europa.eu/