For immediate release, Wednesday 14th June 2017
Contact   boris@sandbag.org.uk for more information
European Parliament vote on Effort Sharing Regulation leaves little room for effort to be shared between Member States, and fails to implement the Paris Agreement.

14th June, London – Today the European Parliament debated the bloc's role in driving global action on climate change, following the US announcement of its intention to withdraw from the Paris Agreement. Speakers reiterated how important it is for European partners to remain ambitious so as not to lose global momentum.

It is a shame, then, that the subsequent Parliamentary vote on the Climate Action Regulation implementing the Paris Agreement (formerly known as the Effort-Sharing Regulation) fell short of living up to that sentiment. We welcome MEPs' approval of a 2018 baseline year – a starting point closer to real emission levels – which Sandbag also recommended in our Effort Sharing Dinosaur report from June last year. Nevertheless, the outcome of the vote maintains the status quo, rather than making a step forward. And its emission reduction requirement proposal still does not represent a meaningful constraint beyond expected emissions reductions.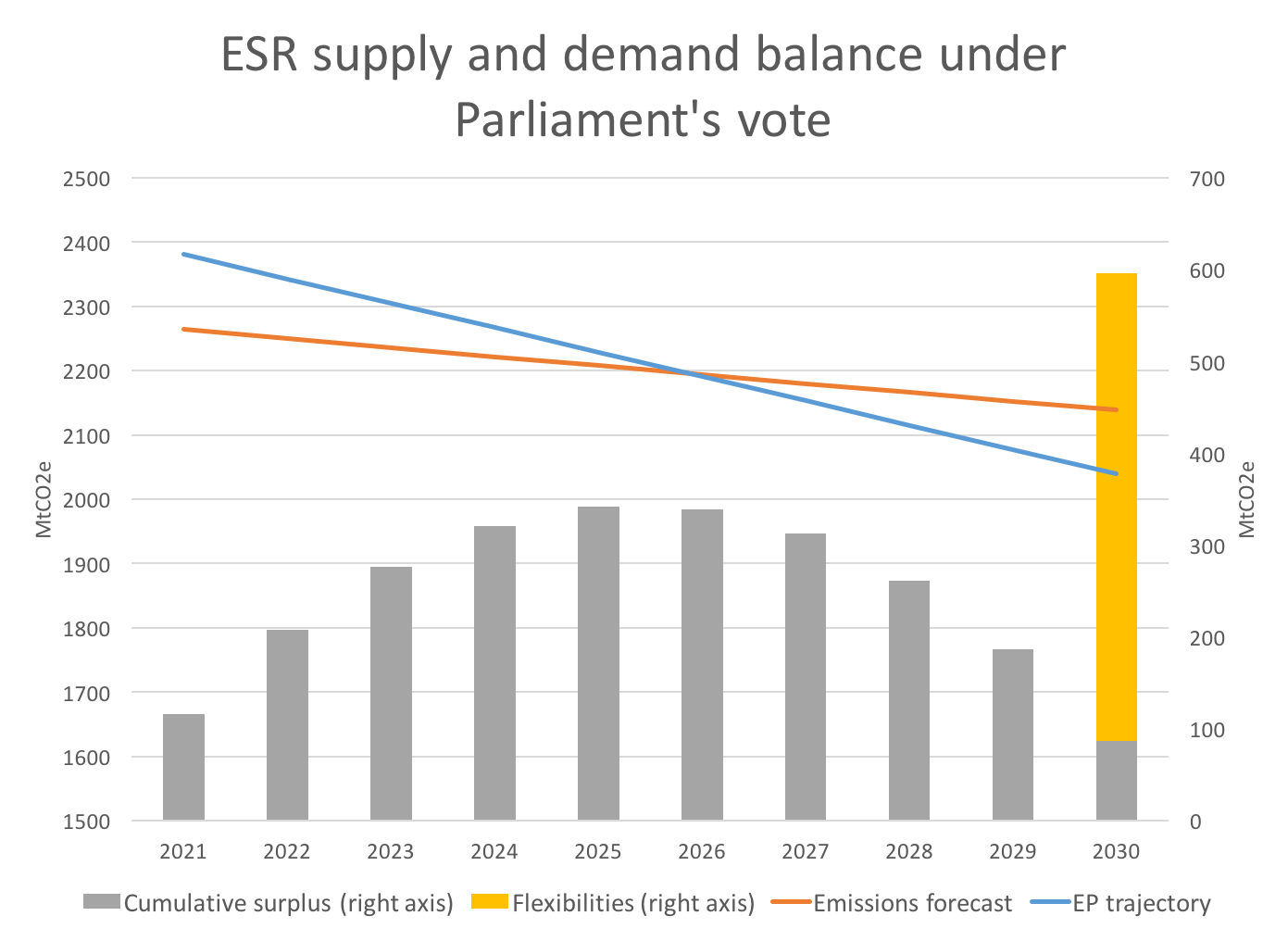 Furthermore, compared to the Commission position, a new flexibility of 90 Mt was added (or an additional 110 Mt compared to the ENVI report). This is anything but a progressive outcome.

If the policy eventually follows the EP position, it will remain focussed on national target management, rather than leveraging more cost-effective emissions reductions to be delivered across the EU. This represents a wasted opportunity to align the ESR with the Paris Agreement, particularly when one considers  that the ESR covered almost 60% of EU wide emissions in 2014.

The European Parliament has failed to learn from its experience with the EU ETS plenary vote: a divided vote in plenary is not good for the climate. Watering down climate ambition through the will of the few seems to be at odds with the idea of representing the long-term interests of citizens, promoting innovation and retaining Europe's mantle of climate leadership.

Rachel Solomon Williams, Managing Director at Sandbag, said:
"This was a perfect opportunity to begin aligning Europe's emissions trajectory with the Paris Agreement. The move to a 2018 baseline year represents some progress in the right direction. But the additional external flexibilities proposed do not, allowing empty credits into the scheme. Flexibility between Member States is necessary if the ESR is going  to deliver on its original promise. We now look to the European Council to show commitment to the Paris Agreement and the economic rationale in EU climate policies when they scrutinise this legislation next Monday."