London, 8th May 2019 – Last week the EU Emissions Trading System (ETS) price neared €30 a tonne, a level not seen for more than a decade. But continued Brexit delays leave UK power stations and industrial installations in limbo, unclear about which carbon price they will be paying. There are serious downsides for the Treasury too. This year the EU has frozen UK participation in the ETS and as a result we estimate that the UK government will forgo at least €1.3 billion in auction revenue this year, assuming the Brexit extension lasts until Halloween. This is a complex situation which invites many questions, so we've summarised the key issues below.   Why are big emitters confused?    
"not only do we not know what we're paying [for carbon] tomorrow, we don't know what we're paying yesterday"
The prospect of a no-deal Brexit risks the UK dropping out of the ETS and, with participants dumping their unneeded carbon allowances onto the European market, the carbon price crashing. To guard against this, the EU has prevented the UK from auctioning any allowances or handing out free allocation to industry in 2019. Emitters in the UK are now unsure whether they will eventually have to surrender EU ETS allowances for 2019 emissions (if a Brexit withdrawal agreement is agreed), or whether they will instead pay the UK Carbon Emissions Tax (tentatively fixed at £16/t) from the date of a no-deal Brexit.
What does it mean for UK government carbon revenues?
If a No Deal Brexit happens at Halloween (the EU's deadline for the end of the extension period) the UK government will forgo more than €1.3 billion in auction revenues (at an average carbon price of €25/t) or €1.6 billion (at an average carbon price of €30/t). The carbon price today is ~€27/t.[1]
Equally, this would mean that big emitters would be off the hook for their climate pollution for the first ten months of the year.
If a Withdrawal Agreement is achieved (with the UK staying the ETS until the end of the current phase), the UK would have the right to hold its auctions, and would be able to recoup this revenue.
Figure: Sandbag's estimates for EU ETS allowances auctioned by the UK, and revenues to the Treasury.
The Brexit freeze means no allowances have been auctioned by the UK in 2019.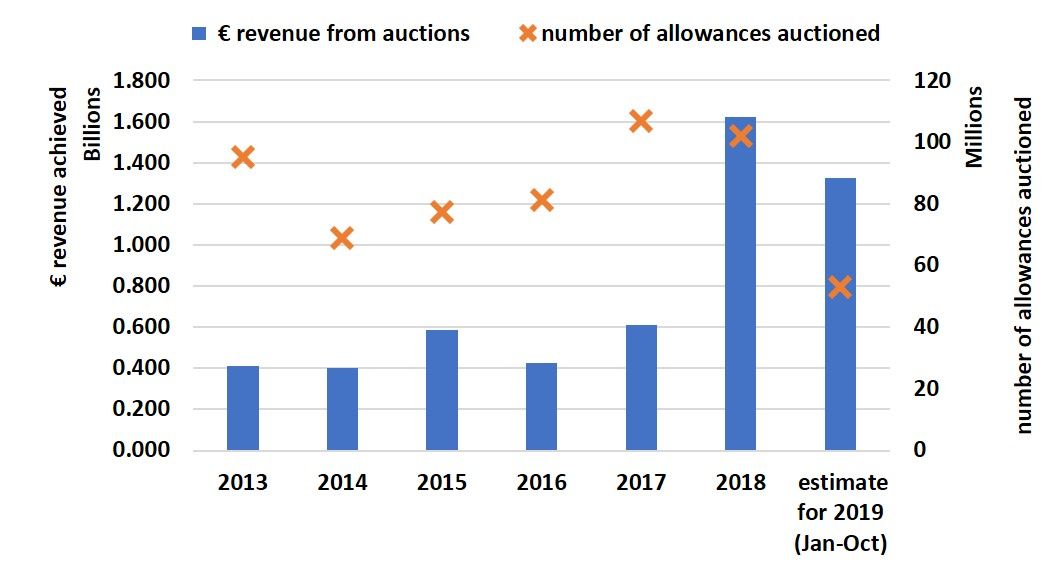 Why have British Steel had to get a loan from the UK government?
Some UK companies have been playing a risky game. Borrowing from the future, they planned to use some of their free allocation for 2019 to cover their 2018 emissions. The strategy didn't pay off, as Sandbag discussed in a recent Daily Telegraph article. Already, flyBMI have gone bankrupt, partly citing carbon costs.[2] Last week, British Steel received a £120 million loan from the UK government to help them pay for 2018 emissions.[3]
Even without Brexit, the strategy of borrowing allowances from the future would have come to a hard stop in 2020 as emitters are not allowed to use Phase 4 (2021-2030) free allowances for Phase 3 (2013-2020) compliance. How will British Steel cover its 2020 emissions?
What does it mean for the UK power sector?
The UK power sector has some difficult calculations to make. So far in 2019, they are paying just the Carbon Price Support (at £18/t), but with the expectation that at some point in the future they will also have to pay for EUAs (at ~€27/t today) or, from the moment of No Deal, the Carbon Emissions Tax at £16/t (€18.60/t).
The Carbon Price Support and the risk of the additional EUA carbon costs, plus a very low gas price, has seen coal emissions fall to new lows. As we publish this, the UK grid has been running entirely without coal for over a week.[4]
Hedging has become very difficult because power companies don't know if they will be required to pay their emissions bills in EUAs, or in cash. RWE say the risks posed by Brexit continue to be "unrelenting and unhedgeable".[5]
Why has the EU ETS price increased so much recently?
Many have attributed the recent EUA bull run to the Brexit delay. As the risk reduces of UK companies 'Brexit dumping' their spare EUAs, the market becomes tighter. But perhaps equally important is the activation of the Market Stability Reserve (MSR) this year, reducing allowance auctions and temporarily tightening annual supply on the market.
Are British big emitters running a shadow carbon price in preparation for a Halloween deal?
An orderly withdrawal with a deal, or further extension to Brexit, will leave UK industry still covered by the EU ETS, and installations needing to cover their full 2019 emissions – either from their cumulative free allocations since 2008 or by buying allowances (including from the delayed UK auctions). Big emitters should be running a 'shadow carbon price' to prepare for this.
We estimate that UK industry will need to find around 17.3 million allowances (on top of its free allocations) for full year 2019.[6] This translates to a cost of about €433 million (at €25/t).
Of course, those who have not already cashed in potential accumulated surpluses since 2008 could still be sitting pretty. Overall between 2008 and 2019, we estimate that UK industry has been given 5% more free allowances than its emissions (under the aforementioned assumptions).[7]
"A no deal Brexit at Halloween this year would cost the UK government at least €1.3 billion in lost ETS auction revenue – and would allow British big emitters to dodge paying for their climate pollution for most of the year. Big emitters and low-carbon investors have been left in carbon limbo by Brexit.
Last week Parliament has passed a motion declaring a climate emergency, and the Committee on Climate Change showed the UK should now be aiming for net zero emissions by 2050. The government's response must include a resolution to the UK's carbon price chaos."
References:
 Total whole year EU ETS auction forecast (after MSR) = 631,445,590 allowances

The UK's share (10.08%)  = 63,649,716 allowances
January to October (10 months) = 53,041,430 allowances

At a carbon price of €25/t, the UK government would forgo €1,326,035,740.
At a carbon price of €30/t, the UK government would forgo €1,591,242,888.

 https://www.bloomberg.com/news/articles/2019-02-16/flybmi-regional-airline-collapses-blaming-brexit-and-fuel-costs

 See above quote from https://carbon-pulse.com/73238/

 Based on the free allocations visible in the European Transaction Log last year for 2019, and assuming 2019 emissions remain at 2018 levels (as shared in the Commission's preliminary data release on April 1st this year)

 Important note: Some sectors (e.g.Iron&Steel &/or Paper&Pulp) transfer allowances together with waste gases (or heat) to third parties. Exact figures on transfers are not shared publicly but it is fair to point out that the balances for these sectors will be slightly less positive than suggested by the EU Transaction Log data.