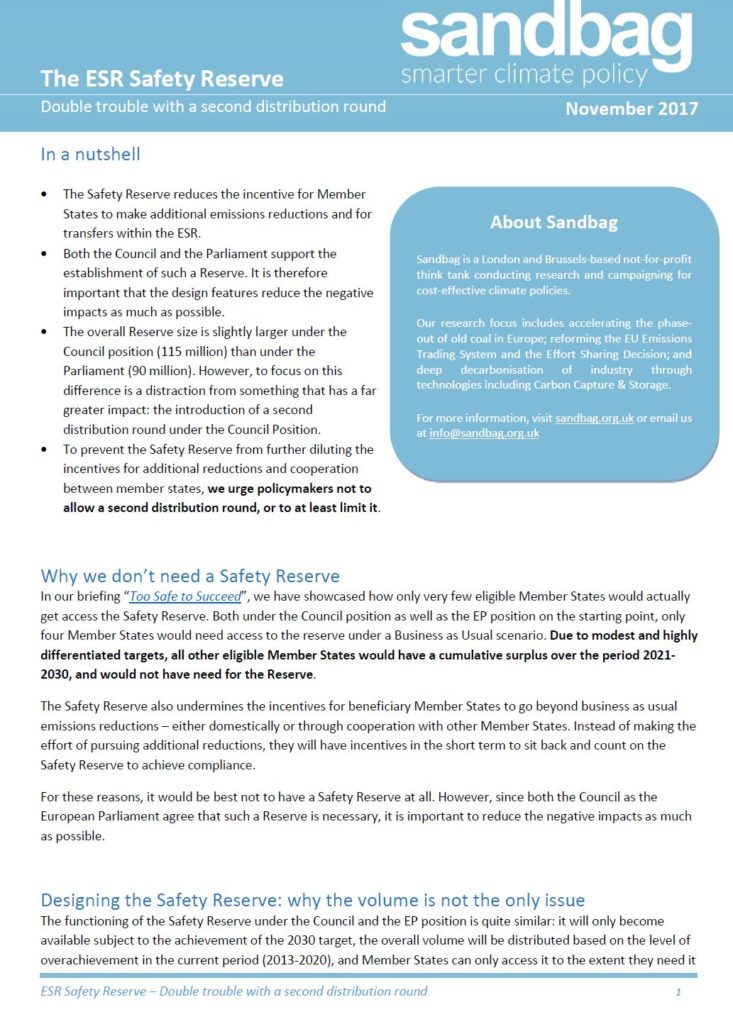 The Safety Reserve was introduced under the Effort Sharing Regulation to 'recognize early efforts' from lower-income member states that are expected to overachieve their targets in the current period (2013-2020). To the extent that the EU as a whole achieves its target for 2030, these lower-income member states can use emission allocations from the Safety Reserve to help them achieve compliance in the period 2026-2030. However, as explained in our previous briefing, this Reserve reduces the incentive for Member States to make additional reductions and for transfers within the ESR. Its potential use should therefore be limited as much as possible.
This briefing explains that rather than the size, it is the second distribution round that will be key in determining how much of the Reserve will eventually be available for use:
With just one distribution round, we expect that a large share of the Safety Reserve will remain unused, as most eligible Member States won't need it to achieve compliance. Our analysis shows that only about one third of the overall available limit would eventually be used.
With the introduction of a second distribution round, it is probable that the Reserve will be fully exhausted by just a few member states. They would be able to cover more than half of their expected deficit under Business as Usual with allocations from the Reserve. In other words, the second distribution round would halve additional effort they would have to do beyond Business as Usual. This clearly undermines the incentive to reduce, either domestically or through cooperation with other Member States.
Policy makers should not only focus on limiting the overall size of the Safety Reserve, but also – and even more importantly – on preventing or at least limiting a second distribution round. Our main recommendations are therefore:
Limit the access to the Safety Reserve to one distribution round. The introduction of a second distribution round risks to give just a few Member States a very large access to the Reserve;
Limit the overall cap on the Safety Reserve as much as possible, to further reduce its negative impacts;
If a second distribution round would be included after all, put a limit on the access a Member State could get in that distribution round (e.g. at its original access to the reserve, before applying a pro rata reduction).
Image with thanks to Serge Kutuzov