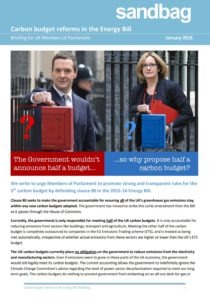 This briefing urges Members of Parliament to promote strong and transparent rules for the 5th carbon budget by defending clause 80 in the 2015-16 Energy Bill.
Clause 80 seeks to make the government accountable for ensuring all of the UK's greenhouse gas emissions stay within any new carbon budgets adopted. The government has moved to strike this Lords amendment from the Bill as it passes through the House of Commons.
Currently, the government is only responsible for meeting half of the UK carbon budgets. It is only accountable for reducing emissions from sectors like buildings, transport and agriculture. Meeting the other half of the carbon budget is completely outsourced to companies in the EU Emissions Trading scheme (ETS), and is treated as being met automatically, irrespective of whether actual emissions from these sectors are higher or lower than the UK's ETS budget.
Our amendment for Report Stage – co-created by WWF, the RSPB, and ClientEarth – is available here.