On Tuesday the EU carbon price reached its highest point for five years, just above €9 for a tonne of CO2.
Does this trajectory mean the Emissions Trading System is fixed, or is there more work to do?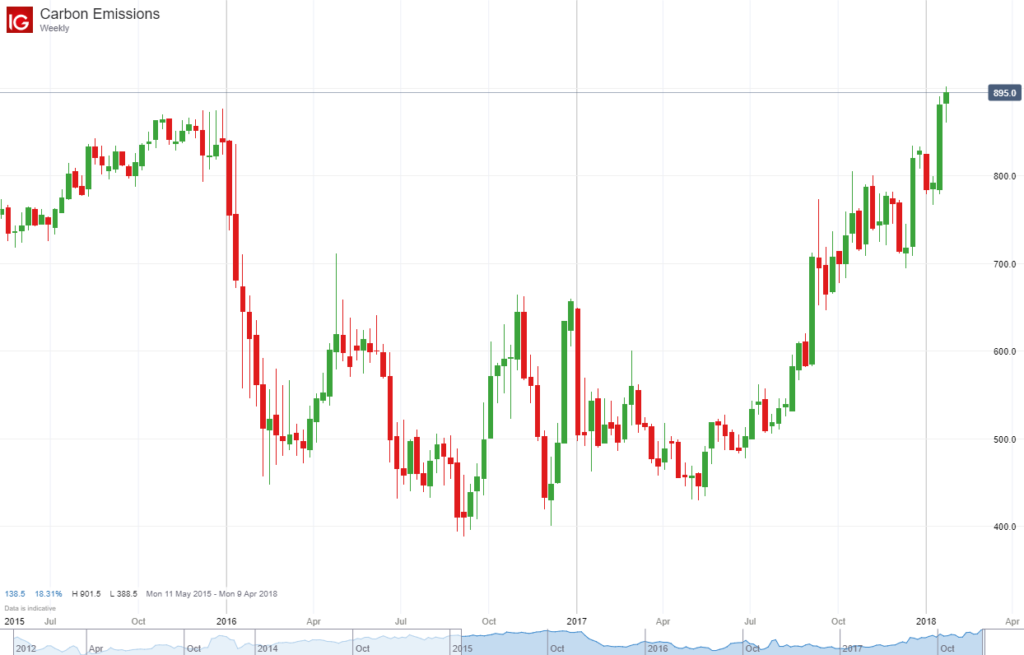 Dec-19 ETS prices with thanks to IG.com

Sandbag's model says there's much more work to do…

There's still a significant and persistent surplus of allowances on the market, which will act to keep the carbon price low this decade.

With an end to backloading (a temporary reduction of allowances), we expect the surplus will go on the rise again in 2017-2018, as emissions remain far below the cap. This will mean a surplus of between 1.6 and 1.7 billion before the Market Stability Reserve (MSR) kicks in next year.

As of 2019 the strengthened MSR will start to bite, but due to the vast size of the surplus, we still expect it to remain above 1 billion and up to 1.3 billion (in our low-case emission scenario) at the end of 2020. With the surplus remaining so large, we don't see carbon prices rising significantly in Phase 3.

For Phase 4  of the ETS (2021-2030), several factors are still unclear, such as the approach for aviation post-2020, Brexit, and most importantly emission levels.

Our base-case scenario vs Our lower-emissions scenario

Under our conservative base-case scenario (1.2% annual emission reductions, which is comparable to most recent WAM projections by member states), the surplus would continue to fall after 2020, to below 833 million in 2023. After that, the MSR stops withdrawing and the surplus would stabilize around 700 million allowances for a few years before dropping again at the end of Phase 4.

However, it remains likely that Europe nudges further towards a lower-emissions scenario (of 2.8% annual reductions, in line with historical and current trends). With ever decreasing costs of renewables, more and more member states announcing (accelerated) coal phase-outs, and continued complementary policies on energy efficiency, we don't see emissions reductions slowing down in the coming decade. This lower-emissions Sandbag model shows that – despite the strengthened MSR and increased LRF – the EU ETS will not be able to catch up with these reductions, and the surplus will continue to hover around 1.6 billion throughout Phase 4. This will continue to suppress the carbon price in line with the low levels witnessed today.

For the low-hanging fruit of emissions reductions (phasing out the most polluting coal) Europe probably needs a carbon price at least similar to that of the UK's (€25) – which has reduced coal burn to less than 7% last year. €9 is an improvement, but nowhere near the level needed to have major influence on investment decisions.

Without a strong carbon price, over the coming years the EU and Member States will need to introduce supplementary policies to push forward with the energy and industry transition. This will need to include more Member State and regional carbon taxes to drive coal phase-outs.

And as a final note: in the last two years, January has seen big falls in the carbon price. With a windy winter and the return of the French nuclear fleet further lowering emissions, is that pattern going to repeat?

Notes
In previous reports, Sandbag's base case was estimated to lead to a surplus of over 1 billion by 2025. This was because our model assumed that the MSR would only start to withdraw allowances as of September 2019, based on the surplus as established by 15 May 2019. However, according to the MSR decision the MSR will start to withdraw allowances as of 1 January 2019, based on the surplus as established by 15 May 2018. Our updated surplus estimates take into account the resulting higher withdrawal volume for 2019.
Sandbag's in-depth analysis into the future of the ETS is available here.
Analysts predictions for the carbon price are collected by Carbon Pulse, and are available here (£)