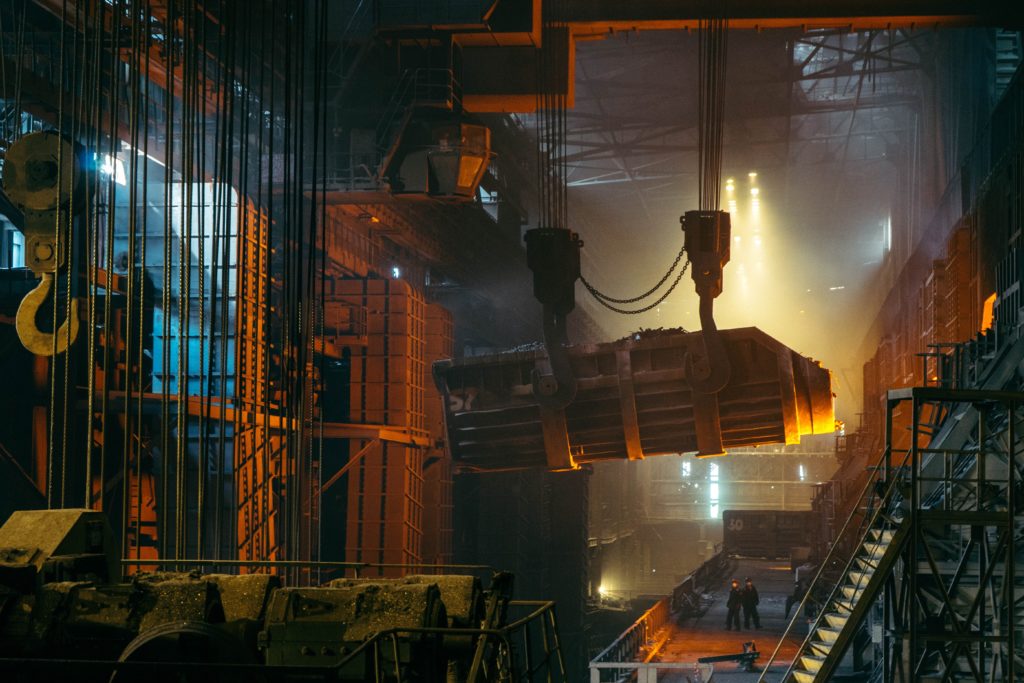 EU ETS reform risks failing to cut the steel sector's emissions whilst boosting the sector's unearned profits
– this was the key message of a letter delivered yesterday to Heads of European Member States from Climate Action Network Europe (of which Sandbag is a member). However, with small changes to the current reform proposal, the ETS can begin to drive the transition to a low-carbon and competitive European steel industry.

European competitiveness in a post Paris Agreement world can only be guaranteed with a rapid transition to low carbon industrial activity. Given that an increasing proportion of the world is now covered by carbon pricing, Europe needs to address how it can raise the carbon price to a level which drives abatement while maintaining competitive industries. There is no evidence of carbon leakage having yet occurred in response to the EU ETS, but it remains a potential risk in the absence of a global carbon pricing mechanism. With the current €5 carbon price, the European steel sector's competitiveness problems have been due to global steel oversupply, not climate change regulation. Global steel prices are now rising again, which should secure the European steel industry in the short-term; longer-term, innovation is needed.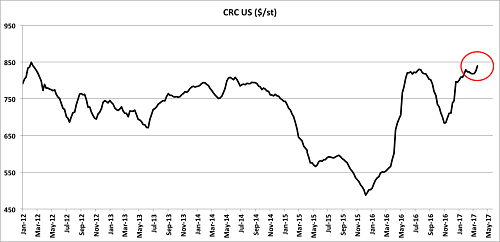 Steel Prices: Cold-Rolled Coil Hits a 5-Year High, Will They Continue to Rise? (MetalMiner)

A sensible alternative to free allocation is to use a carbon Border Adjustment Measure (import inclusion scheme) or a carbon consumption levy, rather than continuing handouts to industry at the expense of the European taxpayer. This would ensure a level playing field between steelmakers in Europe and those outside, ensuring they pay equally for their pollution.

Despite the iron and steel sector having accrued a surplus of hundreds of millions of excess allowances to date, the ETS reform proposal makes the extraordinary change to increase free allocation to the iron & steel sector from Phase III to Phase IV, as Sandbag has shown previously. Even as the overall cap falls, iron & steel are set to receive an even greater portion of Europe's limited carbon budget. This falls short of industries' calls for a fair ETS: as other sectors reduce their emissions, iron & steel must pull their weight

The CAN-E letter also references research by Carbon Market Watch showing how in the period 2008-2015 the iron and steel sector gained €8.4bn of windfall profits from excess free allowances. It is important that Heads of State do not forget how badly free allocation has been targeted in the past, and to treat with due skepticism claims that current ETS reforms will threaten the competitiveness of European industry.

Waste gases should not receive full free allocation
However, not satisfied with these windfall profits and increasing free allocation, some in the steel industry are now asking for more, in the shape of full carbon leakage coverage for waste gases. Waste gases are a currently unavoidable byproduct of the iron & steel production process, mainly used for power generation. Despite the 2015 EU Court of Justice decision upholding the current allocation levels and the current non-allocation to waste gas emissions, a letter from 76 steel CEOs released on Monday 29th May asks for even more free allowances for waste gases.

Stronger benchmark reductions will drive innovation
The current Parliament ETS proposal of a 0.25% minimum reduction in the benchmarks implies a 400 year decarbonisation trajectory. This compares poorly with the Paris Agreement, which requires global net negative emissions in the second half of this century. The steel industry claims even current benchmarks are "technically unachievable", despite the benchmarks being set by the current best performing installations. The industry's claims are unrealistic; all sectors must play their part in cutting emissions, and the technology is available for steel to make significant reductions.

Tiered free allocation is practical and fair
Different industries with different exposure to international competition have different needs for protection from the carbon price, a point where Sandbag agrees with the steel sector. However, where the steel sector support a tiered Cross Sectoral Correction Factor (CSCF), our analysis shows that targeted (tiered) free allocation is a fairer solution for Phase IV, which will help incentivise some of the emission reductions necessary.
Tiered free allocation, as proposed in the Commission Impact Assessment or similarly here or here by Sandbag, would allow industry genuinely at risk of carbon leakage to receive all the free allowances they need, whilst avoiding the Cross Sectoral Correction Factor by limiting free allocation to sectors which aren't at risk.

The 'downwards only' principle for free allocation
Applying a 'downwards only' principle for free allocation is fairer, ensuring that as the cap declines, all sectors take action to reduce emissions. In Phase 4, this principle would free up approximately 450 million allowances when applied to the Parliament's proposal. This leaves room to rebase the overall cap at actual emissions levels, getting the market back in touch with the reality of falling emissions driven by other policies.

The current reform position means that even by 2030 in several Member States some industry sectors will still have received more free allocations than needed to fully cover verified emissions – a quarter of a century after the inception of Europe's "flagship" climate policy. Instead, now is the time for the European institutions and steelmakers to embrace R&D and commercialisation of new low-carbon technology, from electrified arc furnaces, to top gas recycling blast furnace (TGR-BF) with carbon capture and storage (CCS).

The EU carbon market was founded on the principle that it could discover the least cost abatement via a robust carbon price. If that principle can be reasserted, and the ETS cap can be reset to match actual emissions at the start of Phase IV, the ETS alongside other climate policies can help to drive investment in clean, low-carbon technologies.

For more information, see Sandbag's recent research on ETS free allocation and carbon leakage:
Read the CAN-E letter in full here

Thanks to Ant Rozetsky for the foundry image