For immediate release, Wednesday 8th February 2017
Contact  (+44) 02038 766451, dave@sandbag.org.uk for more information
8th Feb, London – In 2015, the previous Conservative government promised to phase-out unabated coal in the United Kingdom by 2025 at the latest. The new government has recommitted to this promise, and launched a consultation which closed today for suggestions on how the phase-out can be ensured.
Today Sandbag submits evidence to the consultation, alongside a statement signed by 13 NGOs, welcoming BEIS's proposal to place the coal phase-out into UK law.
We make three specific calls in our evidence to the government:
To bring forward the deadline for the coal phase-out to October 2023:
BEIS's impact assessment shows coal is phased out by 2023, so this is not changing expectations, it is just making sure we get the benefits of a cleaner, more reliable, flexible grid without a delay.  It would also guarantee investors could build replacement infrastructure by 2023, taking out the risk that they will continue to be crowded out by coal until 2025.  And importantly, it gives a 2-year safety blanket in 2024 and 2025, where constrained coal could be available to keep the lights on only if there are delays in the new infrastructure coming online, before all coal is definitively closed by 2025.  The response details two proposals that BEIS could use to implement this.
To change the capacity market to help transition from coal to clean.  The capacity market is keeping coal alive: payments worth £453m have already been signed for seven coal plants over four years.  These payments are already keeping coal from closing now, they risk that all coal will not close in 2023 as BEIS anticipate, and they enable coal to run high loads instead of just contributing to keeping the lights on.  To transition from old coal to building one-for-one new large gas plants with a big lifetime carbon lock-in is not acceptable. The capacity market needs changes to better encourage storage and demand response.
The carbon price support must be kept in place at least until the last coal plant closes.  The CPS provides a vital role in ensuring coal emissions are constrained; removing it would result in a huge increase in emissions.
Today's NGO joint statement says "We believe the government should restrict coal generation and capacity ahead of this 2023 timeframe".
Dave Jones, Analyst at Sandbag said:
"Bringing forward the coal phase-out to 2023 will make sure we get the benefits of a cleaner, more reliable, flexible grid without a delay.

The government's impact assessment already shows coal is phased out by 2023, so this is not changing expectations, but it will send an important message to investors in the UK, on building new capacity, and an important message internationally, that the world is accelerating towards the end of coal power. "
ENDS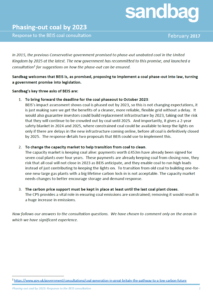 Notes to editors